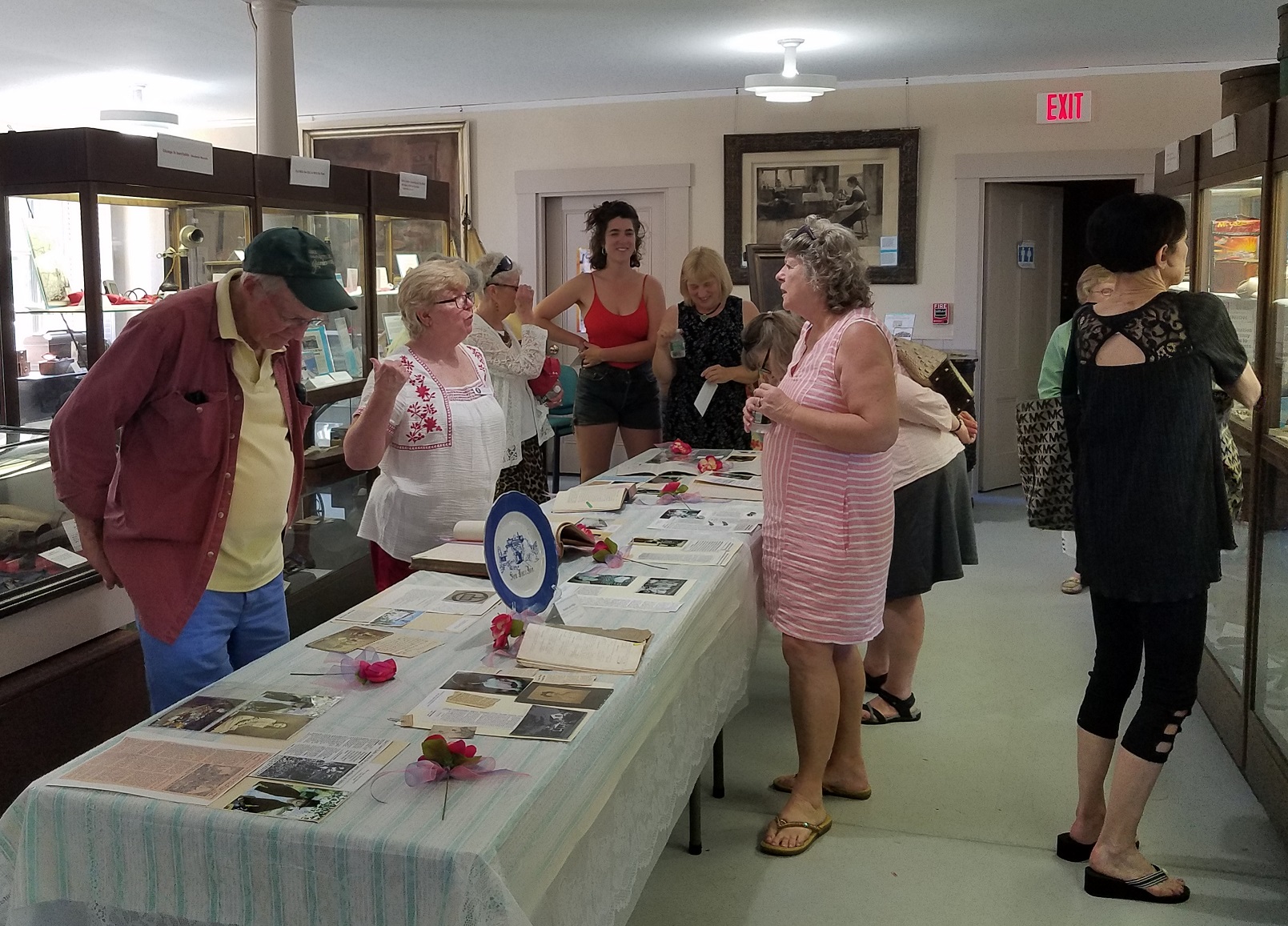 Portsmouth, Rhode Island has a proud history of amazing men and women. Although it may be easier to trace the lives and influence of the Portsmouth men, our community has had women who shaped our character. As we remember the birthday of Anne Hutchinson, the Portsmouth Historical Society celebrates some of these women on July 21, 2019
This was our third annual celebration of Portsmouth Women.
Visitors were able able to view a special display of artifacts for many of the women from the Society's collection. Items were on display for this day only. There was a "round robin" presentation on these women who have contributed to Portsmouth. There was a brief description of each woman's role in the Portsmouth community. Cards for each woman was read by audience members. Those who have a special connection with a woman were encouraged to read her card. After the presentation there was an opportunity to continue viewing displays. The booklet "Portsmouth Women," with more detailed information on each of the women in our past celebration, was available for a $5 suggested donation to pay for printing costs. A brochure on this year's honorees was be added to the booklet.
Only one of our women, Dorothea Dix, could be considered famous. Some of the women have had quiet yet influential roles in our Portsmouth community. The story of Fannie Brent Scott came to light when the Society received the generous donation of a portrait of her which was painted by noted Portsmouth artist Sarah Eddy. Fannie's story, from freed slave in Virginia to well loved Portsmouth community member, makes us aware of the diversity of experiences Portsmouth women have encountered.
This year we honored:
Teachers: Edna Griffin Fitzgerald and Edna Brophy
Community Workers: Alice Anthony Webb, Gertrude Macomber Hammond, Ruth Lunan and Fannie Brent Scott
Reformers: Dorothea Dix, Eunice Greene, Lillian Collins Borden
Faithful Women: Ada and Elizabeth Trout, Ellen Gustin
Farmers: May Chase Hanks