Battle OF RI DAR Monument
IN MEMORY OF THOSE PATRIOTS
WHO FOUGHT HERE IN THE FIRST SKIRMISH
OF THE BATTLE OF RHODE ISLAND,
AUGUST 29, 1778.
ERECTED BY THE WILLIAM ELERY
AND COLONEL WILLIAM BARTON CHAPTERS
DAUGHTERS OF THE AMERICAN REVOLUTION
1910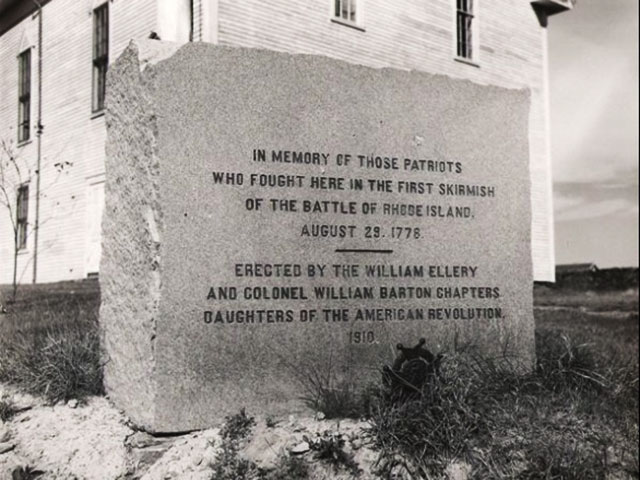 On August 29, 1910 on the 132nd anniversary of the Battle of Rhode Island, a large granite boulder was unveiled on the grounds of the Christian Union Church, which of course is now home to the Portsmouth Historical Society.
The monument is made of Westerly granite and weighs about 2 tons.
The site was chosen because it was traditionally considered to be near the location of an early skirmish in the Battle of Rhode Island when American troops ambushed British forces on Union Street near Middle Road.
The Battle of Rhode Island was the only major conflict in Rhode Island during the American Revolutionary War.  It was fought throughout Portsmouth with major fighting taking place on Quaker Hill, Turkey Hill and the area around the earthen work known as Butts Hill Fort.
The British had occupied Aquidneck Island since 1776. In 1778, events in New York encouraged American and French forces to try to recapture the island and overtake the British forces in Newport.
Their efforts did not prevail. The Continental Army, led by Major General John Sullivan, was forced to retreat to the north end of the island in Portsmouth. With reinforcements, British Major General Robert Pigot pursued the retreating American forces.
The British occupied the island until October 1779.